Volcanologist Erik Klemetti has turned down opportunities to visit White Island, the New Zealand volcano that erupted Monday afternoon and killed at least five tourists.
That's because White Island, also known as Whakaari, is the top of an explosive volcano, and Klemetti didn't like the risk. (The rest of the volcano is submerged under the sea.) Whakaari is similar to the imposing Cascade volcanoes on the western coast of the U.S., which are liable to erupt violently, sometimes with relatively little notice.
"You need to be conscious that there could be an unexpected explosion," said Klemetti, who is an associate professor in the Department of Geosciences at Denison University. "And if you're caught near it, you could be out of luck."
The short-lived eruption was powerful enough to eject volcanic ash some 12,000 feet into the sky. But this was still a relatively small eruption, explained Janine Krippner, a volcanologist at the Smithsonian Global Volcanism Program.
"This is an inherent risk with visiting volcanoes," said Krippner, a New Zealander who has visited White Island. "It doesn't take big eruptions to be deadly."
"[White Island] is well-monitored, but surprises like this still happen," she added.
As of Tuesday at midnight in New Zealand, police and emergency responders flying over the island had not spotted any "signs of life," signaling a grim outcome for still missing visitors.
It seems to me a gross misunderstanding of and deep failure to appreciatr nature,
to record a video like this at the margin of a boiling lake of acid and then express incredulity that people were in mortal danger? https://t.co/m5VI1KkvUq

— Austin Elliott (@TTremblingEarth) December 9, 2019

Michael Schade@sch · Dec 9, 2019, Replying to @sch
(Reporters can use any of these with attribution. Sorry, I can't keep up with 1-off asks to use, don't have great service)

Checked photo timestamps. The Last photo from me standing on the land was 13:49; this first photo of the eruption was 14:12, about a minute or two into the eruption.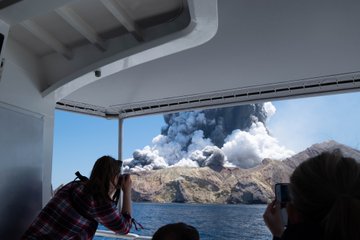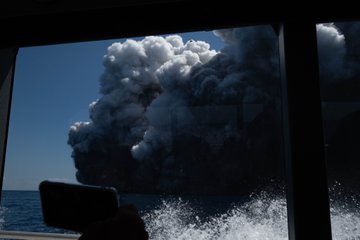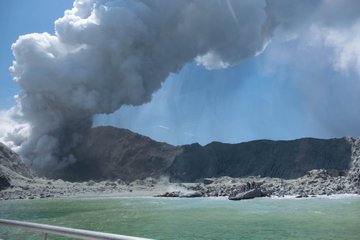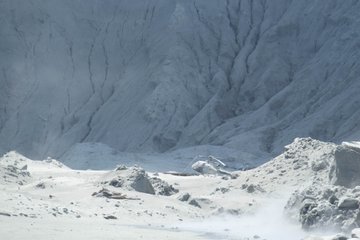 1,721 people are talking about this
Indeed, many tourists have for years walked by the volcano's boiling lake with no incident. "This time the timing's bad," said Klemetti. Such are the indifferent whims of nature.
"How many hundreds of thousands of people visit this place with nothing happening?" Krippner asked. "Some people are there at the wrong place and the wrong time."
It's difficult to know when a volcano-like White Island, technically known as a stratovolcano, might have a brief blast. "There is very little way to tell that this was going to happen," explained Klemetti. Water might have drained into the scorching insides of this volcano, leading to an unpredictable steam-driven event, he said.
"I've always been skeptical of the tourism there," said Klemetti, noting the waivers he would have needed to sign to step foot on the volcanic summit.