As the coronavirus outbreak continues to dominate headlines, Japanese electronics company Sharp has announced it will use its Mie Prefecture plant to produce surgical masks.
The masks have become a common sight not just in Japan but across the globe as the coronavirus, named COVID-19, has continued to spread. But with their popularity come shortages, so Sharp is stepping up its production.
Sharp, which is owned by Foxconn, typically produces displays at the factory. But the company now plans to start producing the masks by the end of March at a rate of 150,000 a day and eventually climbing to over 500,000 a day.
As the Associated Press astutely notes, these display factories are often "germ-free… for the sake of high quality." This makes it a perfect factory for producing masks intended to prevent the spread of germs.
As for whether or not the masks actually do much, the answer seems to be that if you're healthy, no.
The World Health Organization (WHO) says that if you're healthy, you only need to wear one if "you are taking care of a person with suspected 2019-nCoV infection."
Additionally, they're only really effective if you're taking other steps like constantly washing your hands.
The WHO also recommends wearing a mask if you are showing any symptoms of the disease.
Additionally, the Center for Disease Control says in its coronavirus FAQ that it doesn't recommend "people who are well wearing a facemask to protect themselves from respiratory illnesses, including COVID-19. You should only wear a mask if a healthcare professional recommends it. A facemask should be used by people who have COVID-19 and are showing symptoms."
Meanwhile, U.S. Surgeon General Jerome Adams took to Twitter to call on people to stop panic-buying masks.
U.S. Surgeon General✔@Surgeon_General
Seriously people- STOP BUYING MASKS!

They are NOT effective in preventing the general public from catching #Coronavirus, but if healthcare providers can't get them to care for sick patients, it puts them and our communities at risk!
http://bit.ly/37Ay6Cm Coronavirus Disease 2019 (COVID-19)Coronavirus disease 2019 (COVID-19) is a virus (more specifically, a coronavirus) identified as the cause of an outbreak of respiratory illness first detected in Wuhan, China.cdc.gov 65.3K 5:38 PM – Feb 29, 2020, Twitter Ads info and privacy 47K people are talking about this
U.S. Surgeon General✔@Surgeon_GeneralReplying to @Surgeon_General
The best way to protect yourself and your community is with everyday preventive actions, like staying home when you are sick and washing hands with soap and water, to help slow the spread of respiratory illness.
Get your #FluShot– fewer flu patients = more resources for#COVID198,356 5:41 PM – Feb 29, 2020, Twitter Ads info and privacy
4,856 people are talking about this
Basically, if you don't need to wear a mask, don't hoard them, because that leaves fewer masks for the health care workers who need them.
"There are severe strains on protective equipment around the world," the WHO's Dr. Michael Ryan said last week. "Our primary concern is to ensure that our front line health workers are protected and that they have the equipment they need to do their jobs."
But if you're insistent on using a mask, at least make sure your beard is properly trimmed.

Kassandra Sepeda✔@KassandraSepeda


To beard or not to beard. In the wake of the #CoronavirusOutbreak the @CDCgov has come out with a chart to help people understand which facial hairstyles might get in the way with face masks. https://cnn.it/2wP44xf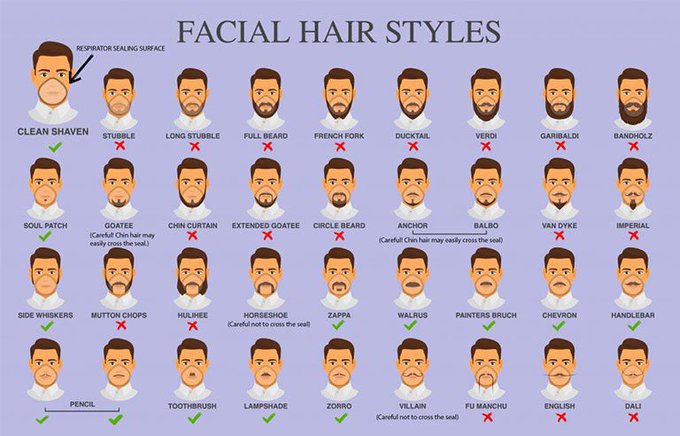 13 8:24 PM – Feb 26, 2020, Twitter Ads info and privacy
See Kassandra Sepeda's other Tweets
We've reached out to Sharp for additional comment on the factory plans.