No, this is not a late Halloween story.
People across the internet are sharing creepily similar stories of mysterious text messages being sent from their phones to friends, parents, and partners. The messages show no record of being sent from the smartphones in question, but they are very much being received by confused people on the other end.
As you might expect, everyone involved is both confused and weirded out.
josie duffy rice@jduffyrice · 13h
so, my best friend's husband got a text message from her at 4:45 AM that said "am I gonna get sued for sexual harassment." she didn't send it and there's no evidence of it on her phone (or her phone bill!) but it's on his phone. has anyone ever heard of this?!

Jeez. My buddy sent me this, what I thought was a random text. I texted him this morning asking him if he'd been texting in his sleep. He just called me & said, "I didn't send that." Must be the work of some prank factory in Russia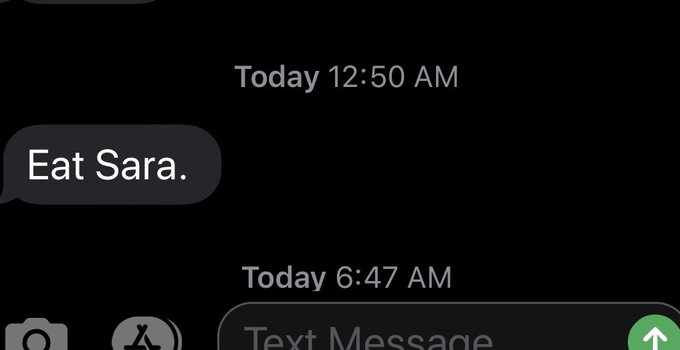 29:31 PM – Nov 7, 2019Twitter Ads info and privacySee Gilo Moreno's other Tweets
Zeba Blay✔@zblay · 12hReplying to @AGoldmund and 2 others
I mean the one she says she got from me kiiinda sounds like me but I think thats unlikely. This is creepy.
459:13 PM – Nov 7, 2019Twitter Ads info and privacy35 people are talking about this
And while it may be tempting to think that a) your phone is haunted, or b) the veil just got pulled back on the surveillance state, multiple phone carriers have confirmed to Mashable that this is all just the result of a glitch.
Which, well, yeah.
"Last evening, a maintenance update occurred to part of the messaging platforms of multiple carriers in the U.S., including Sprint, which caused some customers to have older text messages sent to their devices," a Sprint spokesperson told Mashable over email. "The issue was resolved not long after it occurred."
T-Mobile, when reached for comment, said pretty much the same thing.
"This is not a T-Mobile issue, it's a third party vendor issue that also affected other networks," a spokesperson told Mashable. "We're aware of this and it is resolved."
A spokesperson from US Cellular said much the same thing.
"I'm looking into the details but know this issue that impacted some [of] our customers has been identified and corrected," they wrote over email.
We also reached out to Google and Apple to determine if Android or iPhones were affected in any particular way. We received no immediate response.
And while these ghost text may have a real-world explanation, that doesn't mean there still isn't reason to be concerned. That your texts could one day resurface is a scary reminder of the permanence of SMS messages. Maybe, next time, stick to Signal — and then, if your auto-deleting and encrypted messages come back to haunt you, you'll have a real reason to freak.
Additional reporting by Karissa Bell.
UPDATE: Nov. 7, 2019, 10:44 a.m. PST: This story has been updated to include a comment from US Cellular.