While a news chopper buzzed over Clearwater Beach in Florida on Monday, a WFLA anchor commented on the crowds: "This is a packed scene here at the beaches," he said.
As of Tuesday, the beaches near Tampa are open and buzzing with spring break activity, while the nation and world try to contain the spread of coronavirus — a bug expected to infect 20 to 60 percent of adults globally. Some 15 percent of cases are severe, while 5 percent are critical.
Infectious disease experts, after watching the WFLA clip, emphasized that young people — who may notice no symptoms and feel ready to party — must social distance themselves if the U.S. hopes to limit the spread of coronavirus. There were over 5,700 reported U.S. cases as of 3 p.m. EST on Tuesday — but disease researchers know the true number is undoubtedly much higher.
What's more, Florida's confirmed cases, currently at 192, include four University of Florida students.
"This is how it is going to spread," said Dr. Timothy Murphy, an M.D. and infectious disease researcher at the University of Buffalo, after seeing the video.
"In order for social distancing to work, everyone has got to do it," said Murphy. "It's not going to work unless everyone buys into it."
That's because people can carry the virus and infect others for an average of five days before the first symptoms hit. Or, some folks never experience any symptoms at all. Meanwhile, the virus spreads to the more vulnerable among us — people over 60 or those in poorer health.
"Even if you yourself are a healthy 20-something person, you'll go home and transmit that infection to someone else who might not be as successful in fighting off that infection," said Amanda Simanek, an epidemiologist at the University of Wisconsin-Milwaukee.
Clearwater Beach, Florida is PACKED today despite "social distancing" recommendations. https://bit.ly/38RaaKV
29.4K people are talking about this

We owe a profound debt of gratitude to all our health professionals and everybody who'll be on the front lines of this pandemic for a long while. They're giving everything. May we all model our own behavior on their selflessness and sacrifice as we help each other through this. https://twitter.com/RachelPatzerPhD/status/1239726900446191617 …Rachel Patzer, PhD@RachelPatzerPhDMy spouse is a physician in the emergency dept, and is actively treating #coronavirus patients. We just made the difficult decision for him to isolate & move into our garage apartment for the foreseeable future as he continues to treat patients.
(1/5)413K10:19 PM – Mar 17, 2020
9.2K people are talking about this
Social distancing means staying six feet away from people, according to the CDC. The agency now recommends canceling all mass gatherings.
"Clearly, being on a beach with hundreds of people is going against that recommendation," said Simanek.
A looming, if not an unsettling problem, is that tourists flock to Clearwater Beach. Many Florida beachgoers will then hop in cars (and some on planes) and then disperse around the state or region. "We have to think about what that means for people flying back home," she said, noting asymptomatic people could very well shed the virus in their communities.
This is why social distancing requires everyone's buy-in. The coronavirus spread in the U.S. is still in its early stages. It can't be fully contained anymore, but we can throw a wrench in the virus's uninhibited spread. "This is really a critical time for everyone to hunker down and disrupt transmission," explained Simanek.
The hundreds of people crowding in Clearwater are inhibiting the effectiveness of social distancing. And, as Murphy noted, we all know the partying doesn't end on these beaches.
Empowerment
The "good news" about the coronavirus pandemic, which results in the respiratory disease COVID-19, is everyone can do something of critical importance about it. This is, of course, social distancing.
"The solution actually involves everyone," said Murphy. "Instead of being a victim, we can take active measures."
Some 25 or 30-year-olds can't imagine being infected. Infected NBA stars, feeling well, couldn't imagine being infected, either.
"Every step a young person takes is going to make a difference," said Amita Avadhani, an associate professor at the Rutgers School of Nursing specializing in infectious disease prevention.
"You could be a healthy carrier," Avadhani added. "That cycle needs to be broken down."

Sarah J. Hollenbeck✔@SarahHollenbeck
BUSY BEACH! This is what @MyClearwater Beach looks like right now as spring break crowds flock to the sand. #Clearwater leaders haven't decided if they should add a curfew or close beaches but they may vote on measures related to the #coronavirus this Thursday. @abcactionnews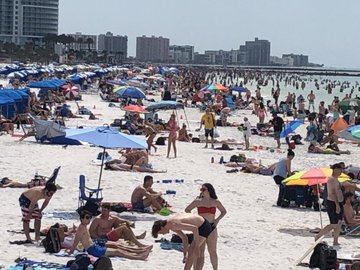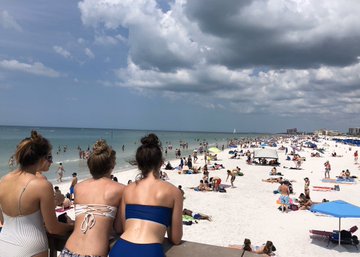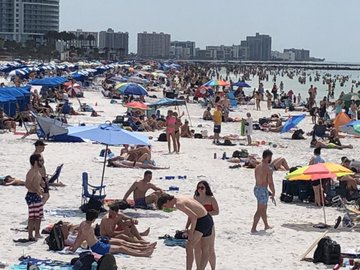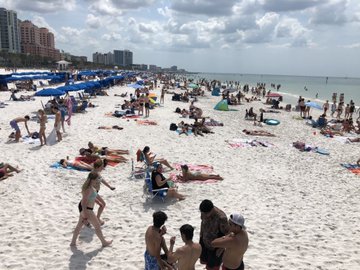 4,719 people are talking about this
Fortunately, it's not 1918, and we have the digital ability to stay in contact with each other without mass gatherings.
"They need to come up with ways to celebrate with friends using Facetime," Avadhani suggested. "At the end of the day, they need to hang out on Zoom instead of going to the beach."
The outdoors, of course, are essential for one's health — but certainly not crowded outdoor places during a pandemic.
Social distancing has become essential because of a woeful lag in testing in the U.S. We largely don't know who's infected. This is a little surprise. The Trump administration is led by a president who shuttered the White House pandemic office and called the spread of coronavirus the Democrats' "new hoax."
"The testing was so slow," said Murphy. "We really don't know the extent of the disease in a lot of communities."
"The best way to not find disease is to not test for it," he added.