Boeing's ST-100 Starliner was supposed to make it to the International Space Station as the company's first test launch prepping for human space travel. Instead, it became the first U.S. space capsule made for humans use to land on continental U.S. soil instead of an ocean.
Early Sunday morning the craft landed at the Army's White Sands missile range in New Mexico (which was just designated a national park) after an "abbreviated" trip, NASA reported.

LANDING CONFIRMED

The #Starliner spacecraft safely touched down at 7:58 am ET at @WSMissileRange in New Mexico with a bullseye landing. This marks the 1st time an American-made, human-rated capsule has landed on land. Watch our live coverage: https://twitter.com/i/broadcasts/1rmGPXAoNlEGN …
1,585 people are talking about this
While the Friday post-launch journey went awry and burned too much fuel too quickly to make it to the ISS because of a timing error, the craft was able to settle into a lower orbit for two days for other commercial space program testing. Rosie, a dummy human, was in the commander seat for the mission and hooked up to sensors to collect data for future human crews onboard.
Sunday's historic landing involved parachutes and airbags, as seen below.
Even SpaceX CEO Elon Musk commiserated on the difficulties of space travel after timing issues sent the craft into the wrong orbit.

After a successful launch at 6:36 am ET, @BoeingSpace's #Starliner spacecraft is an unplanned, but stable orbit. The team is assessing what test objectives can be achieved before a safe landing in White Sands, New Mexico: https://go.nasa.gov/2EAWQgS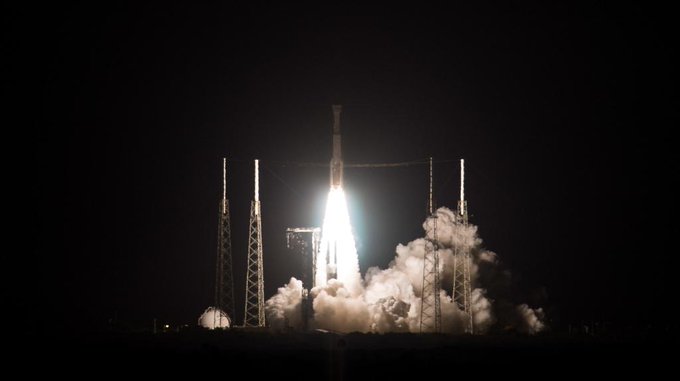 Orbit is hard. Best wishes for landing & swift recovery to next mission.11.9K 3:44 AM – Dec 21, 2019
804 people are talking about this
Now that the Starliner is back on Earth, the craft is heading back to Florida for data retrieval and analysis. NASA astronauts Sunita "Suni" Williams and Josh Cassada are set to fly on Starliner as one of the first crewed commercial spacecraft to the ISS. SpaceX was also selected to fly NASA astronauts to the station on its Crew Dragon. 
But don't plan for a quick turnaround trip for the Starliner. Take-off with humans aboard is still uncertain, and Friday's botched mission didn't help.