The forecast is dreary for Dark Sky on Android.
The popular weather app announced Tuesday that it had been acquired by Apple, making it the latest company to come under the umbrella of the tech giant.
"Our goal has always been to provide the world with the best weather information possible, to help as many people as we can stay dry and safe, and to do so in a way that respects your privacy," Dark Sky's blog post reads. "There is no better place to accomplish these goals than at Apple. We're thrilled to have the opportunity to reach far more people, with far more impact, than we ever could alone."
While this is just another sunny day in the world of Silicon Valley mergers and acquisitions, it's sad news for Dark Sky Android users. The blog post informs iOS users that there "will be no changes to Dark Sky for iOS at this time." But for Dark Sky on Android, the sun has set.
"The app will no longer be available for download," the post reads. "Service to existing users and subscribers will continue until July 1, 2020, at which point the app will be shut down. Subscribers who are still active at that time will receive a refund."
Dark Sky is a beloved weather app because of its clean interface and detailed weather information (especially in comparison to Apple's Weather app). Moving to Apple's walled garden has prompted a downpour of sadness on social media.

Everyone: Put iMessage on Android so everyone can have the best stuff!

Apple: Lol no. And we're taking away your weather app, too
https://blog.darksky.net/ Dark Sky BlogBlog of the best weather app and weather API in the world: Dark Skyblog.darksky.net
36 people are talking about this

So Apple just bought the best weather app, Dark Sky, and they're shutting down the Android version. Booooooo (RIP)https://blog.darksky.net/dark-sky-has-a-new-home/ …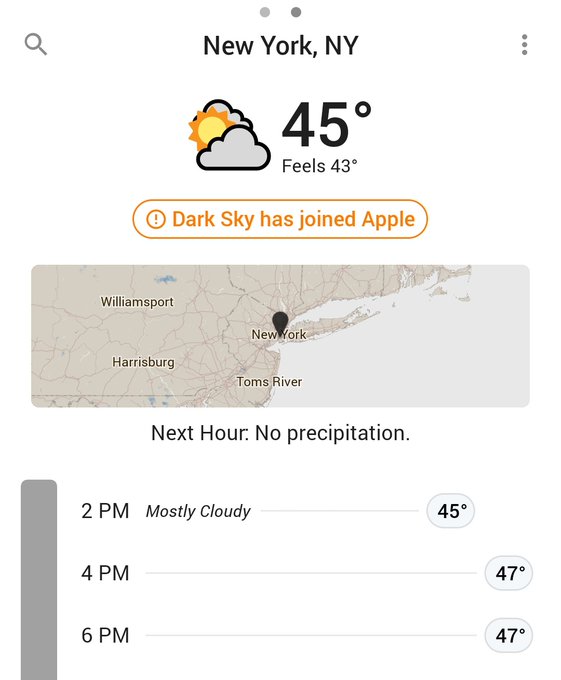 10.3K11:18 PM – Mar 31, 2020Twitter Ads info and privacy1,547 people are talking about this
fucking cooooooooooolllllllllll

I had so much respect for Dark Sky staying small, independent, cross-platform, and superbly dev-friendly. They've scratched two (three?) of those in one move 🙁https://techcrunch.com/2020/03/31/apple-acquires-dark-sky-android-version-shutting-down-in-july/ …Apple acquires Dark Sky, Android version shutting down in July – TechCrunchDark Sky, the popular weather app, has been acquired by Apple. News of the acquisition comes by way of Dark Sky's own blog. The company says that there will be "no changes" for users on iOS right…techcrunch.com

Wow, Dark Sky. Way too soon. Give us some time to mourn first. Damn.

17 people are talking about this
Dark Sky will also be transitioning to shutting off its API by 2021, meaning the services and websites that pull in Dark Sky data may face a torrent of technical issues.
Wow – Apple buying Dark Sky. Potentially going to be a big deal for hyper-local data in the Weather app (plus notifications).

Also a big deal for the ecosystem around Dark Sky – thousands of apps use its API, which will now run through the end of 2021.https://www.macstories.net/news/dark-sky-has-been-acquired-by-apple-and-its-api-will-be-discontinued-at-the-end-of-2021/ …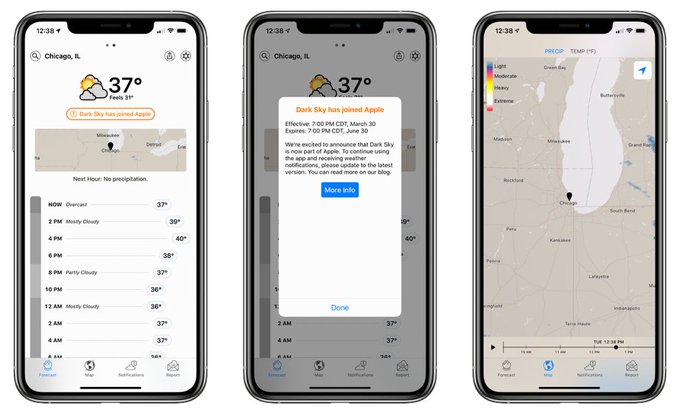 98 people are talking about this
Apple's Weather app could get a lot smarter. But for Android users, it's dark skies ahead.