Bookstores are more than just places to buy books. They're community spaces, where customers go to browse, talk, and eat. It's how they've survived Amazon's discounted prices and fast shipping. But now, with the coronavirus forcing people to stay in their homes, it could cause them to go out of business.
Independent bookstore has three locations in a 10-mile radius of Amazon's headquarters in Seattle. Managing partner Robert Sindelar said he didn't know if he'd have to close the stores temporarily after the governor's recent order to shut down restaurants, bars, and recreational spaces.
"If I can within the government guidelines keep the doors open, even at a low sales rate, I can keep my staff whole, and they don't have to worry about their financial wellbeing," said Sindelar, who oversees 45 employees. "If I can keep the doors open, that's the difference between laying people off and not laying people off."
Sindelar started working at Third Place Books just before the internet was adopted in mass in 1998. At the time, the bookstore sold to suburbanites looking to spend time in its 15,000-square-foot space. Amazon, on the other hand, was busy surviving the dot-com bubble burst.
Today, Amazon owns 42 percent of the market for physical books and 89 percent for ebooks.
"The need and necessity changed. Most of the things you want to do in life you can do with your screen now. So when you choose to step away from your screen, what do you want out of that experience?" Sindelar said. "You want a meaningful experience in physical space."
Now, Third Place Books depend on food and coffee to draw in customers. At the White Whale Bookstore in Pittsburgh, literary events make up 40 percent of co-owner Jill Yeomans' business.
But unlike the financial crisis in 2008, the coronavirus threatens these social spaces. In response, independent bookstores from the East to West Coast are temporarily closing their doors to contain the outbreak. Powell's Books in Portland, the world's largest independent bookstore, was forced to lay off most of its staff.
Many are scrambling for creative solutions to sustain themselves. Third Place Books, for example, is offering free shipping for online purchases and Grubhub deliveries for bookstore cafe orders. It's also considering moving the upcoming book fairs and author events online. Other bookstores are offering curbside pickup for local orders.
15 NYC bookstores offering curbside pickup and delivery http://bit.ly/2vEK2p2 @greenlightbklyn @cafeconlibrosbk @CommunityBkstr @wordbookstores @booksaremagicbk @Center4Fiction@_archestratus_ @thelitbar @bookculture @bookclubbar @mcnallyjackson @astoriabookshop @WordUpBooks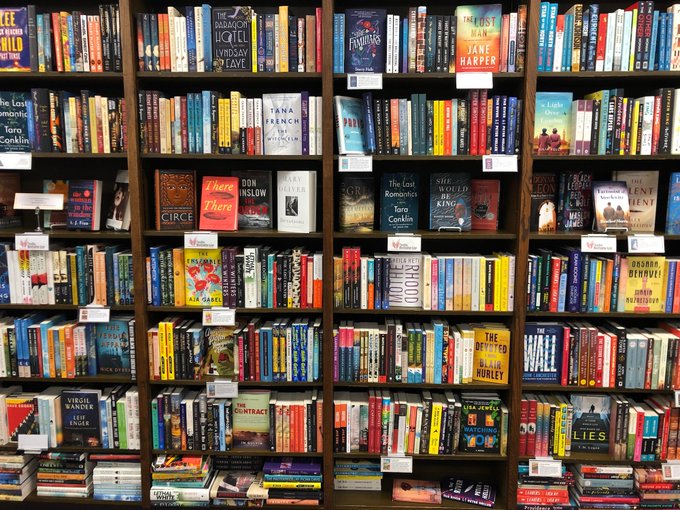 203 people are talking about this
Resource-strapped bookstores like the White Whale will depend on phone and email sales. There are some startups, however, trying to offer relief.
Andy Hunter, the publisher of Literary Hub and four other literature sites, told me only about 150 booksellers in the country sell a meaningful amount of books online. The cost of building a website, combined with the lack of inventory and human resources to compete with Amazon, leaves about 85 percent of bookstores out of e-commerce, he said.
Hunter founded the five-person startup Bookshop, which he presented before the American Booksellers Association at a conference ahead of its launch in February.
Yeomans recalled initial skepticism from her fellow indie booksellers at the conference. Having witnessed the way Amazon had spread its tentacles, many speculated that Bookshop also wanted a big cut of their sales.
"There were hundreds of booksellers waiting to hear what he had to say, and I walked out of it like, 'This person cares about indie booksellers, they want to support us,'" Yeomans said. "They've looked at the research, the website looks smart and intuitive and young. And it really felt like something that can add to our sales — not instead of them."