The trolley problem demonstrates just how dire the coronavirus pandemic is becoming — with a touch of surrealist humor, of course.
In the moral paradox, a trolley's brakes stop working, and as it gathers speed it risks killing a group of people on the tracks and the trolley passengers. You happen to be standing next to a lever that would divert the trolley onto another path, where a single person is standing. You can't save both, so you have to decide between letting the trolley take its course and kill multiple people, or be responsible for killing one person to save the others.
The United States is facing a parallel, but much less morally conflicting issue. The disease COVID-19 caused by the novel coronavirus continues to spread, despite multiple states mandating "shelter in place" and "safer at home" policies. Closing non-essential businesses are more effective for social distancing and flattening the curve, but millions are out of jobs and unable to pay their bills.
The stock market plummeted last week, and as Americans call on the federal government to pass relief packages for individuals in need, the Trump administration wants to bail out the cruise and airline industry. Congress, meanwhile, is working on a $2 trillion stimulus package to float the country through the economic fallout.
Trump, meanwhile, is pushing businesses to reopen. During a town hall on Tuesday, he said he wants "packed churches" on Easter Sunday in less than three weeks, effectively undoing nationwide social distancing efforts to curb the spread of the coronavirus.
"I would love to have that. It's such an important day for other reasons, but I'd love to make it an important day for this," Trump said. "I would love to have the country opened up, and rarin' to go by Easter."
Twitter users are pointing out just how ridiculous the capitalist dilemma is right now — it's barely a trolley problem at all. Why put so much weight on economic development when there are literal human lives at risk?
This one's a real head-scratcher.
301K9:52 PM – Mar 24, 2020Twitter Ads info and privacy93.7K people are talking about this
Janus Rose, Post-Apocalyptic Delivery Dyke✔@zenalbatross
1038:46 PM – Mar 24, 2020Twitter Ads info and privacy16 people are talking about this
Ken Tremendous✔@KenTremendous · 13hReplying to @KenTremendous
But here's the thing. In this variation of the Trolley Problem, smooshing the 5 guys does not save the guy on the other track. In this "virus" version, smooshing all those guys means the virus spreads everywhere and people are terrified and everything collapses. 5/
In our version of the Trolley Problem, we'd get what Michael the Demon from "The Good Place" suggested would be the optimal way to handle the Trolley Problem: dangle a long sharp pole out the window to pick off the [economy] while smooshing the five original guys. 6/
62210:23 PM – Mar 24, 2020Twitter Ads info and privacy104 people are talking about this
this is our present reality, now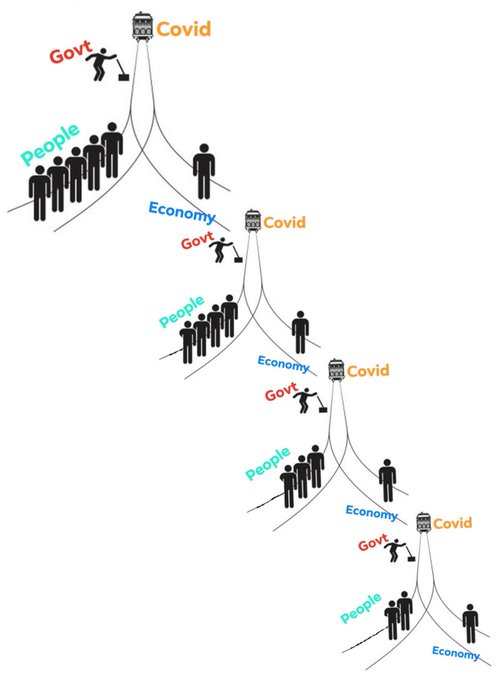 17010:44 PM – Mar 24, 2020Twitter Ads info and privacy72 people are talking about this
Politicians solving for the trolley problem: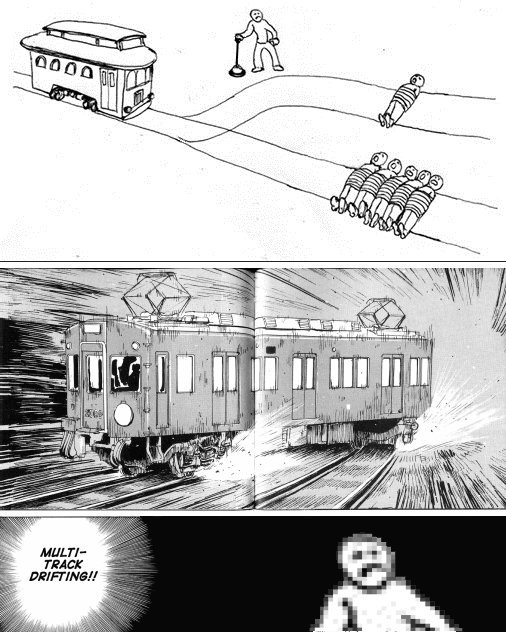 1293:56 AM – Mar 24, 2020Twitter Ads info and privacy38 people are talking about this
In A Good Place, Eleanor and Chidi experienced just how much of a moral strain it was to choose between the two tracks. In this scenario we're facing now, it seems like a no-brainer. And if you're able to, don't forget to stay home.